On International Women's Day, Palladium Group is honored to celebrate women who are blazing a new path in the financial advisory industry. We had the privilege of sitting down with three of these women to learn more about what fuels their passion, what they see on the horizon for the industry, and what essential lessons the pandemic has brought.

Today we can say women have been making strides in financial services for over the past decade in what has historically been a male-dominated industry. The progress has been slow but steady, with one of the most notable achievements being the increasing percentages of women serving in senior leadership roles in the world's major financial services firms. And while the research shows that there is still significant work to be done to further close the gender gap in both leadership positions and compensation, today, we celebrate the progress made and the women leading the way.
On this International Women's Day, Palladium Group is honored to celebrate women who are blazing a new path in the financial advisory industry by leveraging their talent, tenacity, and ingenuity to challenge the status quo and drive change. We had the privilege of sitting down with three of these women to learn more about what fuels their passion, what they see on the horizon for the industry, and what essential lessons the pandemic has brought. As leaders in this industry, they are charting the course for generations of women who will follow. How are they doing it? Margaret Huang Casey, CFP®, Partner, Chief Operations Officer, Durbin Bennett Private Wealth Management; Yonhee Gordon, CFP®, Principal, Chief Operating Officer, Chief Marketing Officer of JMG Financial Group; and Bedel Financial's Sarah Mahaffa, Senior Wealth Advisor and Manager of Financial Planning fill us in on it all.
Margaret Huang Casey, CFP®
Partner, Chief Operations Officer
Palladium Group: Why did you choose a career in financial advising?
Margaret Huang Casey: It is an extremely rewarding field to be in since you not only develop an incredible knowledge base of practical lessons and skills, but you also get to meet and collaborate with some amazing people.
PG: Tell us about some of the initiatives you've led to empower and support women in the finance industry.
MHC: One of the women's initiatives that I run, called Money Circle ATX, provides purposeful opportunities for women to talk about the taboo subject of money comfortably. Nearly all women at some point in their lives will become the primary financial decision-maker for their family. Through small conversation circle events and invitational study groups, we break down barriers to support and connect with women in our communities to better handle this responsibility.
PG: When working with a client to develop a comprehensive financial plan, what are some considerations you find to be unique to women?
MHC: While all of our clients go through the same financial planning process, women tend to live longer, bear more caregiving responsibilities, and oftentimes experience a wage gap. Their financial security journey can be challenging due to these circumstances, but with the appropriate planning and investment advice, it can be overcome and successfully achieved.
PG: How have you seen this industry change during your career, and what significant changes do you anticipate on the horizon?
MHC: Social media and technology have greatly impacted the way we run our businesses and interact with clients. The pace of change will most likely accelerate, so I'm hoping this will attract more people of diverse backgrounds to enter this industry. We need and value different perspectives so that we can continue to innovate and improve our client experience.
PG: What's your go-to guilty pleasure?
MHC: Talking long outdoor walks and then rewarding myself with some dark chocolate when I come home.
Yonhee C. Gordon, CFP®
Principal, Chief Operating Officer, Chief Marketing Officer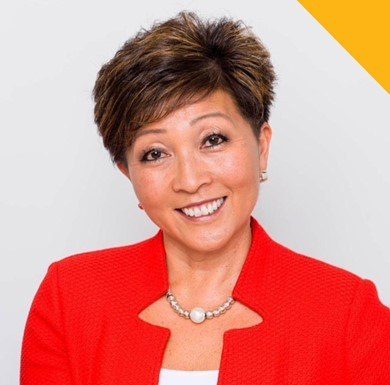 Palladium Group: What energizes you about your work in financial advising?
Yonhee Gordon: It is a privilege to see how recommendations have impacted a client's life during every stage of their financial life – what a gratifying career! From an industry perspective, I get energized by talking to the next generation of financial advisors; they are motivated and eager to learn. And they have such an advantage now by obtaining the CFP education in college before they enter the workforce. The industry has evolved so much over the past three decades – it's very exciting!
PG: What's the most important leadership lesson you've learned, and how has it proven invaluable?
YG: There are too many – it's hard to pick one. I've learned the importance of listening – not just with my ears, but with my presence. This means having an open mind and making sure the other person knows that I have heard them. This is so important with all kinds of relationships. I always think about the quote from Maya Angelou, ​"People will forget what you said, but they never forget how you made them feel."
PG: How has the pandemic changed your approach to firm management and financial advising?
YG: I can't say the pandemic has changed my approach, but it has certainly opened my eyes to how well people can adapt, but there has to be effective communication. If anything, this situation has reinforced my approach to management by illustrating the importance of transparency to employees and clients. The importance of communication cannot be overstated on all levels. There was no disruption of service to our clients. Working remotely was new to many of our employees, but because of effective communication from the management team, the transition was seamless. As long as you manage expectations, there should be no surprises, and I think people appreciate that approach, whether it's good news or bad.
PG: What inspires you to dedicate so much of your time to mentorship?
YG: In my 35-year career at the same firm, I have been directly involved in hiring over 80% of our current employee count. Many of these folks started out of college and are now my partners 10 to 20 years later. Similarly, my predecessors mentored me and are now retired; it is very special to be a part of this cycle. It was by luck that I was given an opportunity to join this firm. Somebody gave me a chance, and I don't take that for granted to this day. Of course, a lot depended on what I did with that opportunity, but I've also realized that not every person may understand these opportunities. So, we have to explain them. If you spend a little extra time being honest and humble with the next generation, it may be more impactful than you can ever imagine. It may not be today, but at some point, they will remember this. I look at it as though I am talking to my past; what advice would you give your 20-year-old self?
PG: What's your favorite family memory?
YG: My parents immigrated from South Korea when I was 3‑years-old. My dad wanted so badly to do ​'American' things that he bought a small camper trailer, and we pulled it with our station wagon from Pennsylvania to Los Angeles. I was 12-years-old at the time and hated every minute, but as I look back now, I always bring up a memory from that trip because something happened in every state! Fortunately, my parents are still with us at age 84, and we still laugh about it today.
Sarah Mahaffa, Senior Wealth Advisor and Manager of Financial Planning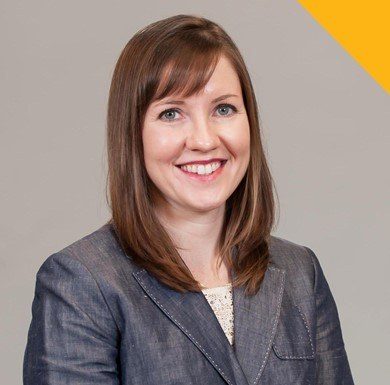 Palladium Group: How did you originally become interested in financial advising and wealth management?
Sarah Mahaffa: After graduating in 2008 and getting a job in the financial services industry, I began to realize most people are self-taught when it comes to their financial planning and investment management. You can graduate with a doctorate and be very well educated in that area of study, but you may have never had exposure to personal financial planning. It turns out I really liked getting in the weeds on topics like estate planning, tax strategy, and retirement planning. Filling in those gaps for people is rewarding for me and has an impact on the clients I was working with. Oftentimes, people don't know what they don't know. In my role, I focus on understanding my clients' situations and giving them clarity on their options and the short and long-term impacts.
PG: What advice would you give to someone considering a similar career path?
SM: Soak up as much knowledge as you can. Look around and find those people that you respect for their experience and how they help people. Learn as much as you can from them, whether that's meeting for coffee, joining them in client meetings (if appropriate), and figuring out how you can support them in return.
PG: Tell us about Integrating Women Leaders and why you're so passionate about your work with them.
SM: When I was five years into my career, I had a few strong women I worked with that significantly impacted my personal and professional development. However, I could see the challenges those women were facing working in a male-dominated industry and as working parents. I couldn't figure out why no one was doing anything about it. I started to seek out resources outside my company and stumbled across Integrating Women Leaders (IWL). The mission of IWL is to accelerate the advancement of women in leadership. One of the most impactful ways IWL affects change is by facilitating conferences that bring people together to change perspectives, provide impactful learning opportunities, and have meaningful conversations. I had no idea what to expect going into my first conference in 2013, but by lunchtime, I knew I had found my people. I had never been surrounded by so many women (and men) who just ​"got it." I knew I had a lot to learn, but I also knew that I was in the right place to do so. I know there are countless individuals, both women and men, who believe in breaking through the barriers that women face. And as a board member for IWL, I have the opportunity to help continue that mission.
PG: How do you separate your work life from home life? How has this changed, if at all, over the past year?
SM: My husband and I have two young girls, 2 and 5, and they keep us on our toes! Several years ago, I read an article that pushed back against the term ​"work-life balance" and instead suggested ​"work-life integration." That resonated with me. Work doesn't always fit neatly in the hours of 8:00 AM to 5:00 PM, and family doesn't wait until after 5:00 PM to need me. Things will come up that need to be addressed, and I really try to be flexible to pivot to what needs to get done, ensuring I can be fully present with my family. I also try to avoid the ​"noise" that doesn't get me closer to accomplishing what I need to do for the day. That means phone scrolling, constantly checking email, really anything that isn't related to my priorities that day – that all sounds good in a non-pandemic world.
Our girls were home from March until late summer last year, so my husband and I had to get creative in how we both got our work done while making sure our kids ate more than waffles all day. We were in a survival mindset for several months, and I just tried to give myself the grace to get through it. Having that foundation of eliminating distractions and being flexible helped me to adjust in an environment when we didn't know what was coming next.
PG: What's on your bucket list?
SM: Camping out at Dry Tortugas National Park (and I am generally not the type to sign up for tent camping!).
We continue to encourage and support women leaders in the financial industry. Happy International Women's Day, today and every day – from all of us at Palladium Group.
And be sure to check out Palladium Group's Women, Insured initiative launched in March of 2022. You can leave assumptions aside and download the exclusive e‑book for five practical strategies you can use today to better connect with, serve, and retain your female clients. Contact us for more information.